Microsoft Windows Server AppFabric provides caching capabilities to facilitate high-speed access, scale, and high availability to application data. Also, for composite applications, AppFabric makes it easier to build and manage services built using Windows Workflow Foundation and Windows Communication Foundation. It also provides amazing monitoring capabilities for your existing WCF services.
After dabbling early with velocity (codename for Windows server Appfabric), I started working on this exciting connected systems technology over an year and half ago in the enterprise environment. In the mean time, Hammad and Rick started working on Microsoft Windows Server AppFabric Cookbook and gave me an opportunity to be a technical editor; it was a great chance to share what I have learned about this technology in an enterprise environment and explore different areas of AppFabic in an organized way. After about ten months of rigor and reviews, the book is out!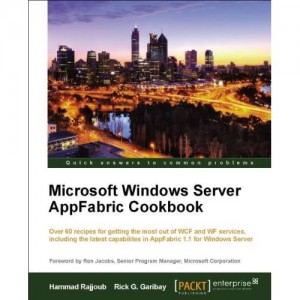 Hammad and Rick have done a great job; and if you would like to know more about the book, Why this book and why now?, and what individual chapters hold for you, please head over to Rick's detailed post about the book.
Written in a recipie style, Microsoft Windows Server AppFabric Cookbook provides you practical ways of solving real-world AppFabric problems. The current books on AppFabric do not address the caching and session management capabilities of AppFabric. These books also don't go in detail beyond the application setup wizard regarding how the Appfabric monitoring works. Microsoft Windows Server AppFabric Cookbook provides you, in Rick's words, a
"...field manual chock-full of practical step-by-step, real-world guidance, tips and techniques that will help you build more maintainable, scalable, reliable, and secure service-oriented applications on the Windows Server Platform today"
You can order your copy from here.